Student Recruitment Campaign & Brand Messaging
Writtle University College
An empowering student recruitment campaign and brand message that enhanced brand awareness amongst key audiences and reinforced Writtle's brand position in a competitive market
"I have worked with Mackman on a number of large-scale marketing projects at Writtle University College and they have delivered excellent results for us. The team are very knowledgeable and are a joy to work with."

Craig Emery, Head of Marketing
Writtle needed an empowering message that could encourage key audience groups, such as present and future students, to engage with the brand
Through a process of collaborative insight sessions, we established the unique attributes for the University that would enable us to develop a powerful campaign
We created a student recruitment campaign that increased applications by 9% against the previous year and enhanced brand awareness for past, present and future students
Writtle College was established in 1893 and was originally known as the County Laboratories
In 2016 Writtle College achieved University status and officially became known as Writtle University College
Writtle is the leading provider of land-based, animal, environmental, design and sport education in the United Kingdom
The Client
After opening its doors as a college in 1893, Writtle University College gained university status in 2016. Proud of their new recognition as a university, Writtle were ready to share the news.
Although Writtle were comfortable with their market position, they had great characteristics and prestige that were not being communicated. Writtle are known for being a leading provider of land-based, animal and environmental education. However, they also offer courses in other niche markets too. It was important to promote these as well as Writtle's design and sport education programmes.
The Challenge
Writtle's campaign needed to speak to a variety of key audience groups. From prospective students and parents to staff and current higher and further education students, the message needed to resonate with everyone.
Working collaboratively with Writtle's in-house marketing team, we needed to create a campaign that would:
position Writtle as a University to encourage drive and ambition
grow awareness of Writtle's courses, beyond horticulture, agriculture and animal science
increase student applications at the university
Writtle's use of language and tone of voice was similar to other Higher Education institutions. We needed to find a way to set them apart from their competitors, and promote confidence and inclusiveness.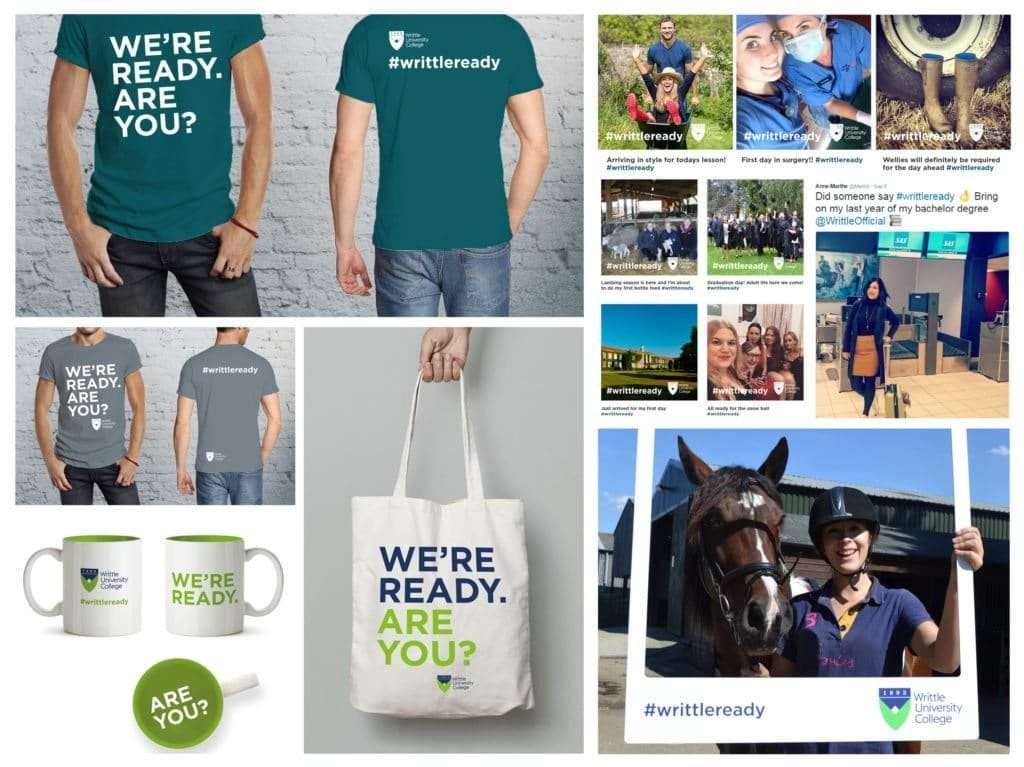 What we did
With our experience of working in the education sector, we undertook workshops with key people at Writtle to identify the unique attributes of the university. This gave us the building blocks to create a campaign that illustrated what Writtle University College stood for.
The core principle of our design was to create one strong campaign message that all the key audience groups could identify with.
We're ready. Are you?
The campaign message speaks directly to prospective students that staff could also get behind. It's confident and empowering. Asking a simple question about being ready challenges the audience to evaluate their decision on their education.
It cuts through the noise of other university messaging. It ignites action.
The campaign's message has versatility and longevity. The university continue to use it in their everyday marketing. #WrittleReady is still being used across social media by staff, as well as current and prospective students.
What we achieved
10% growth in undergraduate traffic on Writtle's website
A 10% growth in undergraduate traffic highlighted the success of the brand awareness campaign amongst a key audience group.
15% growth in further education traffic on Writtle's website
A 15% growth in further education traffic meant that Writtle had positioned themselves amongst a competitive market, and were encouraging visits to the site from prospective students.
9% more applications to Higher Education courses than the previous year
Writtle University College saw an increase of 9% in applications to its higher education courses against the previous year. Nationally, there was a 4% drop in the sector year-on-year, giving a total of 13% more applications against the national average.